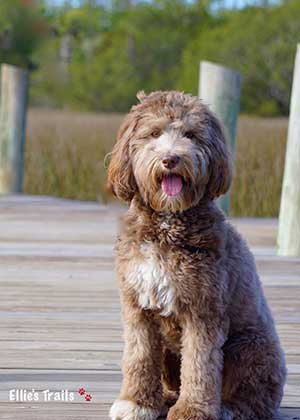 Are you looking at cobberdog puppies and trying to decide if they are the right dogs for you? Do you love the way they look but you aren't sure if you're ready for a puppy and, if so, if you want a cobberdog. Cobberdog puppies can be great pets, whether you are single or living with a family. However, it's important for you to decide whether or not they are the right dogs for you.
The first thing to decide is whether or not you want a puppy. While puppies are cute and adorable, they actually require quite a bit of work. You will have to house train your puppy, which can take months to fully complete. You will also need to make sure that your puppy gets special food, gets their shots, doesn't get into mischief, and get plenty of exercise. Puppies actually need more exercise than larger dogs. This is because they are young and they have quite a bit of energy. If you do not have the time or the energy to put into raising your puppy and training it to be a wonderful dog, then the puppy may not be for you. However, if you have the time, getting a puppy basically means that you are helping your new best friend grow up.
The next question is whether a cobberdog puppy is right for you. Cobberdog puppies are designed to be hypoallergenic, to have an easy temperament, and to be able to carry out tasks that might be necessary for therapy or assistance dogs. They are similar to Labradoodles, though many Labradoodles have other types of dog bred into the line as well.
If you know what a cobra dog looks like and that's the look that you were going for in your new dog, then a cobberdog puppy might be right for you. Most cobberdog puppies have quite a bit of fur that is curly or sometimes wavy. They tend to be very, very soft when you touch them. In general, they look like giant stuffed animals.
Cobberdog puppies also tend to have even temperaments. This means that they are very affectionate and that they can be taught to be quiet. This can make them great for therapy or assistance work. In fact, cobberdogs have their own DNA sequence. This remains stable in cobberdog puppies throughout the generations. It helps ensure that all cobberdogs have the same characteristics.
At Highlands Australian Cobberdogs, we would love to talk to you about whether or not a cobberdog puppy is right for you. We will help you work through any questions you might have about whether or not a puppy is the age of dog that you want to get. Because we raised so many puppies, we can help you think of everything that you might need to consider before you decide on the puppy. Then, we can allow you to meet our cobberdog puppies so that you can see exactly what you might be getting. If you like the puppies, we are sure to have one for you.